Standards are like toothbrushes. Everyone needs one, and everyone wants to use their own.
Standards are like potato chips. You cannot have just one.
And then there's simply XKCD 927 (a well worn, perhaps even "standard" image in standards circles).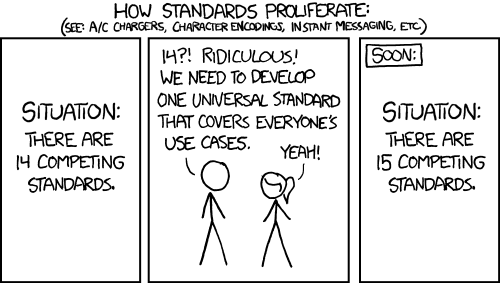 And if you look back to
late 2012 and early 2013
, you can see some of the discussions I had in this space around a battle between two competing standards from the same organization, one for Clinical Decision Support and the other for Quality Measurement.
What rarely happens in this space is that something new arises from the mess that actually solves two different problems ... in this case though they were two different sides of the same coin. The conditional: If (X) then (Y), and the measure: [patients for whom Y is relevant]/[patients for whom X is true].
What happened?
Clinical Quality Language
is what happened. And in the words of its inventor, "we started with an evaluation environment ... we already had the ELM infrastructure ... and we added an execution language".
Yes, I'm crediting one person for the invention because I watched how this played out, and while every standards effort is a corporate (little-c) one, this one was very much driven by one person which assistance from a cast of dozens and input from many more. Much in the same way as FHIR was originally driven forward by Graham Grieve, but became an effort backed by many.
In fact, recently, CQL was recently recognized by CMS in the following fashion:
So, for changing the paradigm in a big way, in fact, for being to CDS and Quality Measurement what Grahame Grieve was to FHIR, I'm awarding this Ad Hoc Harley as follows:
Has hereby been recognized for changing the paradigm in Clinical Decision Support and Quality Measurement
P.S. Bryn and I are working two different tracks yesterday and today at the Digital Quality Summit in DC hosted by HL7 and NCQA. It's no accident that I chose today to award this particular accolade, but Bryn's award was pretty much in the bag last month when I realized how long it had been since I issued one of these, and looked back at who I had missed.