Let's start (as I'm often want to do), with a definition: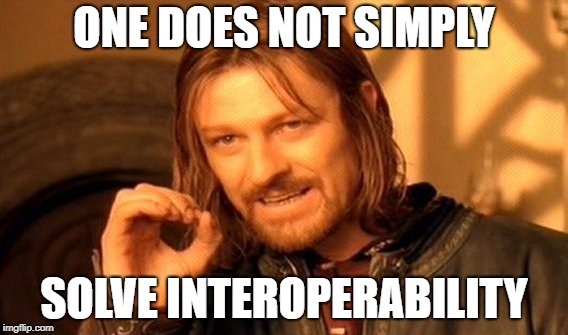 Ability of a system or a product to work with other systems or products without special effort on the part of the customer. Interoperability is made possible by the implementation of standards. -- IEEE Standards Glossary
Now, let's think about what the phrase "special effort" means. Thesaurus.com suggests "fall over backwards", "go out of the way", or "take special pains." I might also suggest "do extra work", or "more than ordinary effort." It goes back to the definition of what is normal or expected of a system.
In 2006, when my work in interoperability really started to take off, the ability to import data between competing EHR systems wasn't considered to be a normal function of the EHR system. The ability for patients to access data via an application of their choosing also wasn't considered to be a normal function. Over time, these capabilities became the norm as a result of two things:
Changes in Health IT Policy over the course of ten years which incentivized the development of of these capabilities in systems.
Changes in Payment Policy made use of these capabilities the norm for providers who wanted to get as much money as they could from CMS.
The development of standards (the second part of the definition) which enabled these capabilities.
Making a policy change isn't simple. It's a process that takes years to complete, and a ton of people and effort. CMS doesn't just get to decide to make a change, tell everyone, and then everyone complies. There's a multi-year long process to making a rule, and that operates under the presumption that there's already legislation in place to make the rule. If not, there's another several month long (at least) cycle just to get the legislation in place. And rules have to leave time for people to implement them. So, from legislation to implementation is at least a 3 year long process, and that's when the pressure is on (i.e., the early years of the HITECH Act).
Once implemented, we now begin a new stage of learning ... what works, what doesn't work, and what needs to change. And then the process starts over again (and if well designed, it already had moved into the next stage).
Developing standards is equally complex. The best work takes decades. But e-mail ... took 60 years to get where it is today. But the internet (HTTP, HTML and the web) ... took 20 years to get where it is today. But XML ... took 3 years from inception of the project to become a standard, and it started from a standard (SGML) that had been in existence for 20+ years before it, and is still being advanced today some 20 years later. But JSON ... is based on work started in 2006 and took another 7 years to be defined as a standard ... and is still being refined today. CDA is almost old enough to drink as a standard, and was in the womb for three years before it's first publication. The inception of FHIR can be dated back almost a decade, the
first published proposal
(and there was a lot of work before that was published) goes back eight years.
Keith