For all of the problems that standards solve, they also create more.
There's even a standard comic for this one
XKCD/927
below.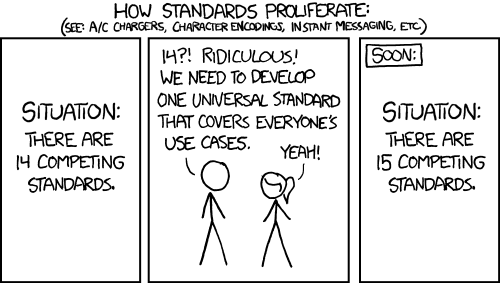 Standards are like potato chips, you can't have just one. I've said this many times. The challenge that we face though, is that everyone has a somewhat different use case. So it's more a matter of 14 different flavors of potato chip, rather than 14 different potato chips. And somehow we have to put all of them into the same bag (maybe) to make everyone happy.
Company A wants to record blood pressure using a consumer device simply and easily.
Provider B wants to get that information as easy as possible, and their organization wants it to cost as little as is reasonably possible.
Professional Society C wants it to be conforming to the highest quality of standards that can be met practically using consumer grade equipment.
Medical device manufacturer D wants the data to contain everything they feel is essential to cover their FDA requirements for capture of the information.
Medical Researcher E wants to have ALL of the data the same way every time for the most reliable measurements.
Every single one of these constituents has reasonable requirements for why they want what they want. Many of the requirements conflict with each other in many ways. How do we get from here to there in a way that we can make use of the data?
The way this is done today in standards is essential by eminence, rather than by evidence. We compensate our under-engineering with real data by over-engineering a solution. To be honest, it's pretty damn difficult to gather the necessary evidence needed. How would you put a number on any of the following?
What's the actual value to research for having ALL of the data (not just the BP measures, but the signal that was interpreted to produce the measure)?
How much of the FDA medical device requirements are essential for patient care?
How much variance is reduced by recording cuff size?
What is the impact of not recording it on patient care?
How accurate is the data that is recorded?
What is actually going to cost to get that data to a healthcare provider?
Whats the cost to develop an app that allows this data to be transmitted using various standards?
Can you even get data that would be aligned with measures associated with any of these questions? Would you be willing to sit in a room with a number of noted physician and even ask some of these questions? Because if you do, you will be challenging the status quo somewhere.
But status quo right now is that this isn't happening in a practical, cost effective fashion, and someone has to
engineer
a solution to make it work. How much engineering is actually going to happen though, really, without looking at all of these factors. Because if you don't address those factors, you aren't really doing engineering (you may be over-engineering a
perfect solution
, a sure sign of under-engineering).
Until we can solve this problem, we're simply going to be stuck with a whole bag of things that is probably more than we need.
P.S. When this ad came out, I did eat just one, just to prove that I could.